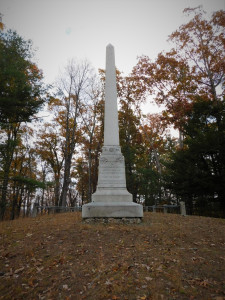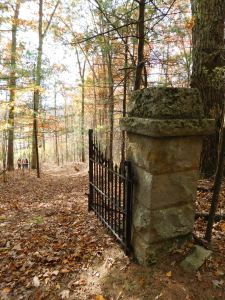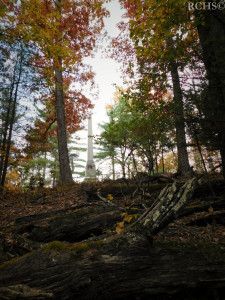 Mt. Iser Cemetery is a rare Confederate burial site located within Federal entrenchments. This cemetery is unusual because it is a privately owned Confederate burial site. This site is owned by the Randolph County Historical Society and is located on Butcher Hill, which overlooks Beverly.
During the Civil War, Mt. Iser was a defensive position used by the Union troops, and the earthworks are still visible on the hillsides surrounding the cemetery. These trenches are part of the reason why Mt. Iser was chosen as the location of the Confederate Cemetery in 1870. The Union forces that occupied Beverly dug the trenches and established camps on Mt. Iser. During Confederate raids the mountain became a point of sanctuary for the soldiers stationed in Beverly. A local resident of Beverly during this period, Thomas I. Arnold, explains how Mt. Iser became a Confederate Cemetery about five years after the War ended.
"Not long after the War, Mr. Joseph Hart, who lived at the top of Rich Mountain on the battlefield, expressed the wish that the Confederate dead, who had been buried in the trenches not far from his residence, could be removed. In consequence, arrangements were made by a few of the citizens for their removal. Calvin Collett contributed the necessary ground on top of Mt. Iser. Colonel Goff, Dr. Yokum, Mr. Cresap, George Leonard, and Thomas Arnold contributed the funds necessary for the removal. Moses Phillips was hired by this group for the removal."
About sixty-nine Confederate soldiers, and one civilian, from the Rich Mountain Battle and surrounding skirmishes were moved to Mt. Iser.
In 1908, the Randolph County chapter of United Daughters of the Confederacy dedicated a spire in remembrance for the fallen soldiers buried on Mt. Iser.  This chapter was organized on January 8th, 1898 in Beverly for the sole purpose of purchasing a monument to place on Mt. Iser. It took ten years for the group to succeed in their mission to raise three thousand dollars to purchase and place the twenty-eight-foot granite obelisk on Mt. Iser.
There was some difficulty identifying the soldiers buried at Mt. Iser. The Randolph Chapter attempted to identify the men by putting out advertisements in newspapers throughout the area, but had little luck. This is why there are no names on the original obelisk. In 2000 the Women's Club donated bronze plaque donated that lists the Confederate soldier's names who were most likely buried here.

Inscription on front of monument:
61 U.C. V. 65
To
The Confederate Soldiers
Resting here and
To all who wore Gray
"Lest we Forget"
Erected by Randolph Chapter
United Daughters of the
Confederacy
1908
 July 2000 re-dedication plaque inscription:
Probable Burials Include:
20th VA. Inf.                                                        25th Va. Inf.                  
John W. Bayne                                                          Henry R. Gamble
John G. S. Boyd                                                         George W. Hite
William J. Cox                                                           Henry Clay Jackosn
James A. Depriest                                                     John Lawman
William A. Gillespie                                                  Abraham Snider
Travis Guthrie                                                            Samuel Srickler
Robert W. Harding                                                    Robert West
George W. Hazelwood                                   
Charles H. Hickock                                                   62nd Va. Inf. 
Thomas H. McFadden                                             William E. Freeland
Jack E. Murphy                                                         William F. Gardner
Adam Nester                                                              John Hartman    
Samuel H. Pendleton                                               Jacob N. Jackson 
Motier L. Pierce                                                        Peyton Moyers
James H. Richardson                                              Joseph Propst
William T. Smith                                                      John Sharp 
David Stinson                                                           John Smith
Jordan Taylor                                                     
Guinn Ward                                                              Lee Battery
Richard D. White                                                     Isaiah Ryder
James W. Williamson                                    
Constantine Wingfield                                           Other
Douglas B. Woodson                                              William Fadely
14th Va. Cavalry                                                  Civilian/Courier 
James B. Wilson                                                      John H. Hughes, Lawyer
John B. Wyant
Sources:
Lesser, Hunter. Mt. Iser: Witness to History.
Randolph Enterprise. Fine monument unveiled, Beverly entertains large number of veterans. Oct. 2, 1908.
USDI/NPS NRHP Registration Form, Mt. Iser Historic District, Randolph County, West Virginia, Section 7 and 8, 2000.