For a preview about our 2021 exhibit "If These Walls Could Talk" see this VIDEO.
This museum-wide exhibit "If These Walls Could Talk" takes visitors to the Randolph County Museum on a journey through time, showcasing how the Blackman-Bosworth building, which houses the museum, has transformed over the centuries. Opening in June 2021.
This exhibit made possible in part by a grant from the: 

View our open hours here!
The Randolph County Museum is located in the Blackman-Bosworth building in Beverly, West Virginia. Built in 1827-28 by David Blackman, this was one of the first commercial brick buildings constructed west of the Allegheny Mountains. This building was originally used as a mercantile store until the Civil War broke out and the Union Army turned it into a  commissary; you can still see graffiti on the walls in the upstairs rooms leftover from the Union soldiers.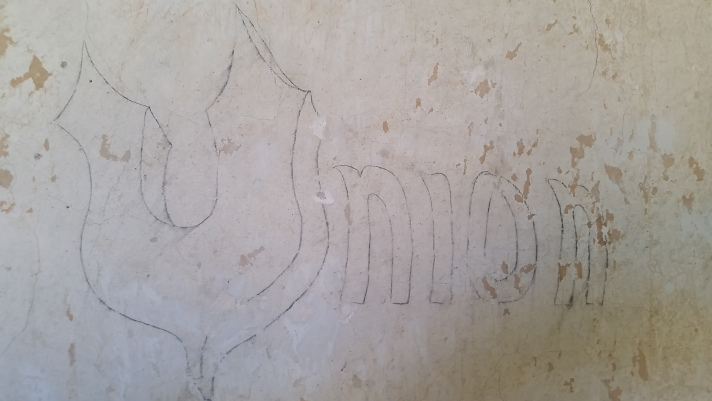 Graffiti upstairs in the Blackman-Bosworth Store
The building later filled the role of a post office, and print shop. The Randolph Enterprise newspaper was printed here until the turn of the 20th century. Before the bank was built in the early 1900s, the cellar of the store was used for housing people's valuables. There was a stone vault in the basement that made it an ideal place to store these goods. When the new courthouse caught fire in 1897 the Blackman-Bosworth building was also used as a temporary courthouse for Randolph County.
Squire Newton Bosworth, son of Dr. Squire Bosworth, bought the store in 1881, and ran a general store called the 'S. N. Bosworth Cheap Cash Store' which operated until the 1920s. He was a postmaster for Beverly as well and ran that out of the Blackman-Bosworth Store. He later built an addition in 1894 that can easily be seen on the north side of the building. This building was then passed down through Bosworth's descendants. In the 1930s the building was used as a recreational center for the National Youth Administration (Harding) for a few years, then in 1972 the Randolph County Historical Society purchased the building and turned it into the Randolph County Museum.

Sources:
Harding, James E. West Virginia Antiquities Commission Historic Properties Inventory Form. Rep. no. 10-300 Rev, (10-74). N.p.: n.p., n.d. National Register of Historic Places Inventory- Registration Form. Web.